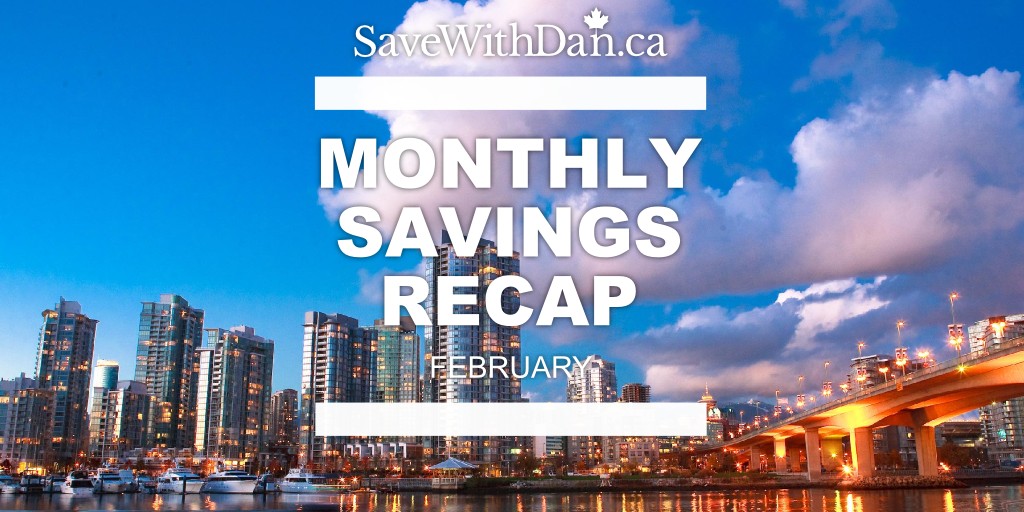 Every month I'll share what I did manage to save, how and where. If you missed the Monthly Savings Recap for January, just click here to read it and I'll wait for you.
Done? Good. Let's see how I did in February!
Home Insurance: $50
Our home insurance policy was about to expire, but we have not heard from our insurance company. Instead of waiting for the bill to arrive, I called the insurance company my employer recommends and asked for a quote, for the exact terms and conditions we have now in our actual policy.
With this quote in hands, when the actual company called we had a competitor's value to confront. Our company's price was $50 higher for the year, but we got them to price match the quote we got from the competitor.
Amazon.ca credit card: $17.5
The Amazon.ca Credit Card does not charge you a money conversion fee when you buy stuff in US$. The normal fee other cards charge is a hefty 2.5%. The tricky part is that this fee is not indicated in your statement, but it's there, believe me. Just check your Credit Card agreement. The same can happen when buying things via Pay-Pal, but at least with Pay-Pal you can set if you want Pay-Pal to process the monetary conversion or if you want your credit card to do that.
Hot chocolate at the office: $5.40
As I said last month, I usually buy the Carnation hot chocolate at the supermarket instead of getting a hot chocolate from the coffee shop or from the coffee machine. This month, the 17-servings size can of Carnation was on sale for $3.99 at the supermarket. That makes each cup of hot chocolate cost me $0.23 cents instead of the usual $0.29 for the 10-servings box.
For the 20 working days of February, it gives us $5.40 in savings. You may think it's too little to even bother, right? Well, not for me. It didn't take any extra time to save these five dollars, so I ask you: why not?
Cash back apps: $4.25
Just by taking a look at some of the cash back apps I use after coming back from the supermarket, I managed to get $4.25 back. Want to know a bit more about cash back apps? I've written a super guide on this, just have a look.
Recycling soda cans: $0.55
I drink Iced Tea on my lunches, and by returning the cans to the supermarket I got $0.55 back (here in Quebec it's $0.05 per can).
Grocery shopping in general: $10-15
Well, this is a tricky category to keep track of. We try to shop the cheapest supermarket in our region, but I didn't really note down every dollar we save by buying there instead of at the luxury markets. However, the supermarket we shop has a price match policy, and by using the right flyers app we manage to save some extra dollars at the cashier. This is an estimate, I'll try to keep better tabs on this category now in March, ok?
VIP Card for the Museum: $160
We love the Montreal Museum of Fine Arts. So much that we subscribe to the VIP Family card. Bear with me: they host 4 big expositions per year, with tickets at $20 per person. We are a family of three, and if we attend every major exposition, we would spend $240. The VIP Family Card costs $110 and is valid for two adults and any number of children under 20. This is enough reason for us, but on top of that we got a Valentines Sale of 20% off for renewing our subscription, making it $80 for the year! Cheap amazing culture boost!
Total for the month: $247.15
Wow, this is a nice number to look at! If we compare it to December and January, it's a blast! But I'd say it was kind of expected, because February, for us, is often a month of big spending because of the Museum card and the home Insurance. So more expenses should be equal to more savings.
If you paid some attention, you can take some nice tips from this post.
How did you do in February? Did you start to track your savings? And what about your expenses? I dare you to save more than me! ;)
Now, if you excuse me, I'm gonna set my budget for March. See you around!
* Stunning Vancouver photo by Kenny Louie