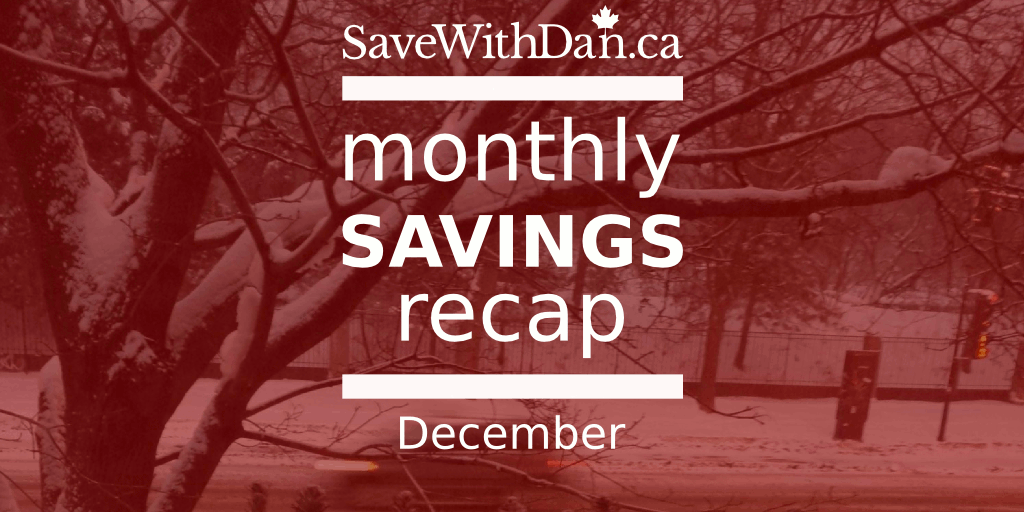 Hi, there! How are you going these days? How are your holidays so far? I hope everything is just perfect!
I've been thinking that if I want you to learn how to save money in Canada, then I should be showing you how I do that myself, right? I mean, I can show you the theory and point you to several websites (I am writing some great website reviews, stay tuned) but nothing beats the actual experience.
So I decided to show you a Monthly Savings Recap. I'll try to keep a record of savings in my day-to-day life and I'll post it here, every month. Of course I do not know everything and I make my mistakes, too. I'll also share these embarrassing moments.
The first month will be December, of course. December is a wonderful month to save, but it's a terrible month to spend. All the holiday expenses and extras can make your budget go to the trash can with the gift wraps for Christmas.
First of all, let me tell you about what I am calling The Big Gift Fail. It happened in late November, but let's assume I can put it here as a December thing, because it was a purchase I made for Christmas gifts.
Happens that ThinkGeek.com was having a sale: 25% off in a LOT of geeky stuff. You know I do not pay full price, right? Since Wifey and Daughter had expressed more than once some desire for ThinkGeek's stuff, it seemed like a good opportunity to buy Christmas gifts in advance. Besides that, it had Free Shipping for every purchase above $75.
Lucky me, I could indeed find some cool gifts in the Sales section! Yay! I just had to fill the cart with some more stuff to get the free shipping minimum value, and this was not difficult at all.
However, my good luck started to fade when checking out. The Free Shipping promotion was only valid in the USA. Ok, it had nothing to do with luck, it was more a lack of planning and reading. Anyway, my thoughts were "well, even paying the shipping, 20% off is a good deal. Let's do this!" Indeed, it WAS a good deal. Usually this kind of stuff is cheaper when bought in the USA, and the 20% off was really tempting. Even after adding the $28 shipping fee the entire purchase would be cheaper than buying the same stuff here. And without paying 15% in provincial and federal taxes. Gasp!
So I happily made the purchase. Some days later I received an email from DHL. Guess what? I had IMPORT TAXES AND DUTY FEES to pay! Oh My Dear God, I totally forgot about import taxes! I would only receive my gifts if I'd pay $44 more.
In short, what looked like a great deal ended in a big fail. I'll compute this as a non-saving of MINUS $72. Lesson learned here. I hope so.
The positive part of the month came later. Let's take a look on it.
Holiday decoration bought two days before Christmas:

20% off for the lights (from $25 for $20) at Target. Plus 5% off of the Red Card. Savings: $6
$2 or $3 in savings for gift wrap and gift bags, at Walmart.
~$5 in savings for a Rudolph Door Knob decoration, from Walmart (apparently I don't have the receipts for these anymore. Shame on me for that.)
Dinner set from Stokes: regular price $79.99, sale $49.98. Savings: $30.01

We have two favorite board game stores here in our city. When I was on the bus heading for one of them to buy another gift, I decided to call them to check the price. Then I checked the second store. The difference between the two of them? Twenty Canadian Dollars. Yes. Two phone calls while in the bus saved me 20 bucks. For one gift.
Another gift was a Kindle for Daughter. While I was always seeing countless sales for it at Amazon.com, Amazon.ca was still holding the same price for a good part of December. I was already calculating that if I could get a decent deal at the US, it would be cheaper than buying it here (this time I was considering shipping and import fees, thank you). Thankfully Amazon.ca dropped the price and I could get it with $15 off.
Since I did not think about this recording savings thing earlier, this is what I can recall now. I am sure there is more money saved in the supermarket (coupons, maybe) or something, but let's stay here for now.
All in all, December was kind of a fail, looking at it. The sum of the savings I can remember is an almost negligible value of $7.
Aaaaand, I must say I am a bit embarrassed with this value. Maybe I got carried away with Christmas gift buying, maybe I just didn't pay that much attention when I saw "Free Shipping" screaming on my email. Anyway, I hope you can learn something from this experience.
Let's see how January will end. Meanwhile, I wish you all a super happy New Year! See you next year, and, once again, thank you all for being with me here!
Greetings!
---
What about you? Did you beat me this month? I am pretty sure you did… Tell me in the comments!
Did you like this post? Why not share it with your friends? Just use the buttons below!